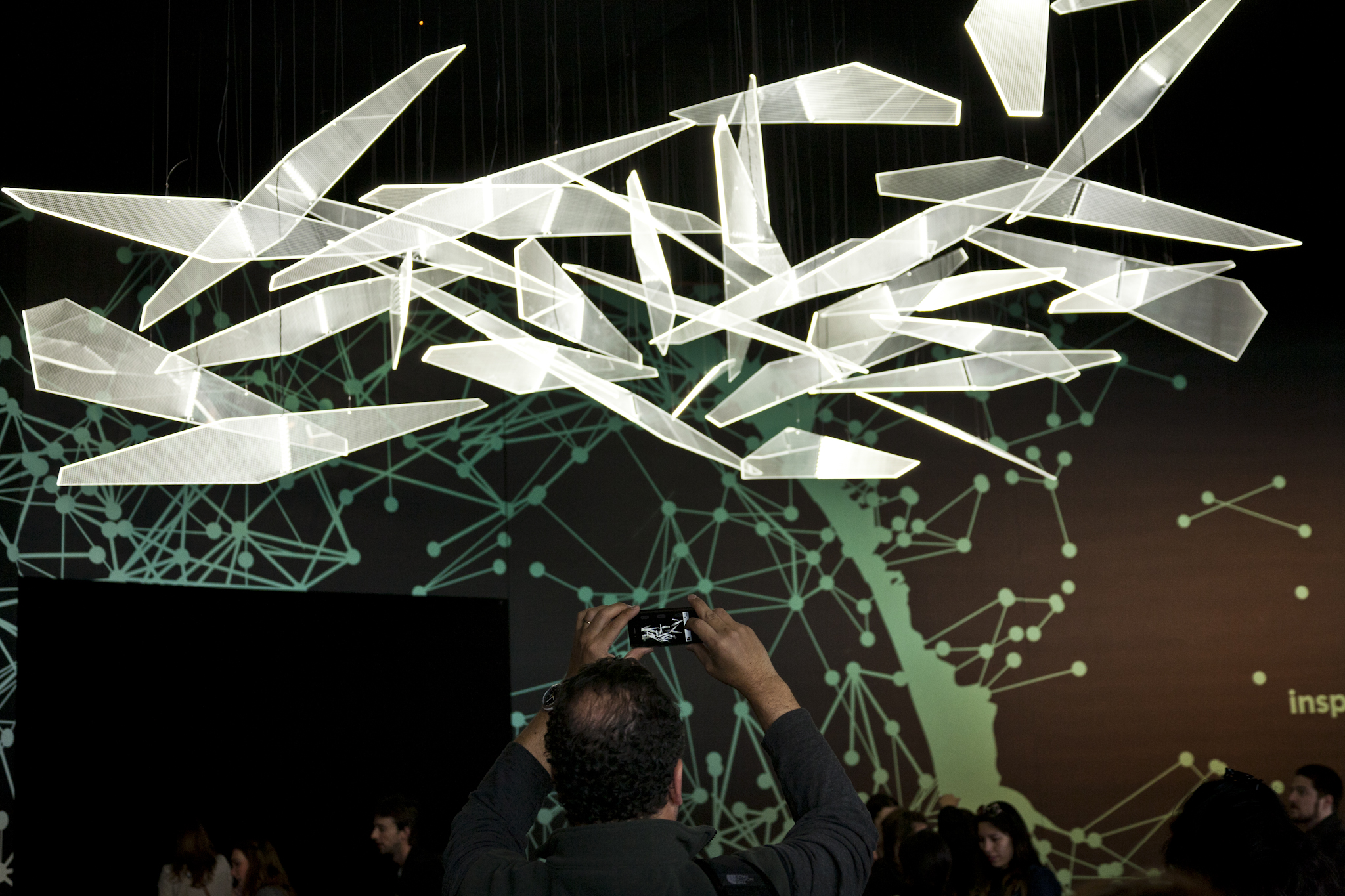 collider website
'Collider' is a new artwork created specifically for 100% Design by Neil Musson and Jono Retallick.
The installation references the positive effects of artistic collaboration and networks of ideas leading to unexpected conclusions. In their first joint project, Musson and Retallick have been inspired by neural systems responding to electrical signals and by mycelia (an intricate fungal network spreading nutrients across vast areas). Sculptural shapes refer to the silent communication between birds in flight.
To convey the energy and power inherent in collaborative thought processes the duo approached Applelec LED light sheet, a company more commonly associated with illuminated signage. Musson explains that
"Applelec were very willing to explore new possibilities for their product and the light sheet is an ideal material to relay our concept. Light is a metaphor for new ideas and this relates directly to the aims of 100% Design. The light sheet offered us the delicate translucent quality that we were looking for in contrast to a sharp and precise finish".
Musson and Retallick gave a presentation titled 'Alternative illumination, where art meets design' examining the benefits of collaboration and how the conceptual thought process is beneficial in creating original design.
More Details Here:www.100percentdesign.co.uk
'COLLIDER': a collaboration between artists Neil Musson, Jono Retallick and Applelec LED light sheet Ltd.
Supernature: Guildford's Jubilee Wood in Stoke Park will be transformed into a magical
and mysterious wonderland as part of the celebrations of the Olympic torch's arrival in Guildford on Friday 20th July!

Metal Monkeys, a Farnham based arts organisation, has received a grant from Arts Council England, which will enable artists to create an innovative installation, Supernature. Artists Debi Retallick, Jono Retallick, Mary Branson and Mat Clarke have been commissioned by Metal Monkeys to create Supernature using light, sound and sculpture, to celebrate the arrival of the torch in Guildford, taking its inspiration from the Surrey Countryside.
Visitors to the Torch Relay event in Guildford will become immersed in this ethereal environment, engulfed by stretched sculptural chandeliers, like sunlight streaming through the trees, and the undiscovered sounds of nature. Yet, these sounds and sculptures are all based on the insects, leaves and wildlife found in Surrey's landscape, and so the familiar is seen in a new way.
Conceptual artist Mary Branson explains "as a child growing up in Surrey, I spent hours playing in the woods. Stepping into the woods felt like entering nature's cathedral – the cool stillness, the smell of damp earth, leaves and bark and the shafts of sunlight streaming through the canopy forming patterns on the woodland floor. Building camps, foraging and gathering, preparing my shelter and supper before nightfall, I was aware of the hidden inhabitants watching me and the new stillness as dusk approached. Back home, I'd wonder about how the woods would come to life as humans left and the inhabitants appeared and new sounds could be heard. It is these childhood experiences which have defined our adult notions of what the woods represent and the mysteries the woods hold. It is this mysterious world that surrounds us in Surrey but we don't always notice, is what Supernature will aim to capture. As Einstein said "the most beautiful thing we can experience is the mysterious"."
Metal Monkeys are a not for profit arts organisation dedicated to developing the practice of it's artist members and sharing this practice with the wider community. Artists are working with scientists from the University of Surrey, and with internationally acclaimed light artist, Neil Musson, to research new techniques to create this place of wonder and intrigue. People from across Surrey including members of the DAiSY network (Disability Arts in Surrey) will be participating in workshops to create individual sculptures, all of which will be brought together to form part of the final installation.
Guildford Borough Council are also funding Supernature and are improving the Jubilee Wood area of Stoke Park, installing power, a new path and lighting to create an attractive area which can be used for future events.
Additional funding has been secured from Guildford Borough Council, Surrey County Council, South Street Trust, Guildford Arts and the University of Surrey.
Visitors can view the installation from 20th to 27th July at Stoke Park, entrance is free.
For further information, contact Helen Cundy 07702 884370, e-mail: helencundy@tinyworld.co.uk
Easter Holiday Art Workshops with young people at Painshill Park
Easter Bonnet Bonanza at Barfield School Farnham

Metal Monkeys 'Surrey Short Breaks for Disabled children' workshops posponed.
New dates for the sessions will be updated soon.

Metal Monkeys have secured funding through 'Surrey Short Breaks for Disabled children' to run two workshop programmes for young people with disabilities;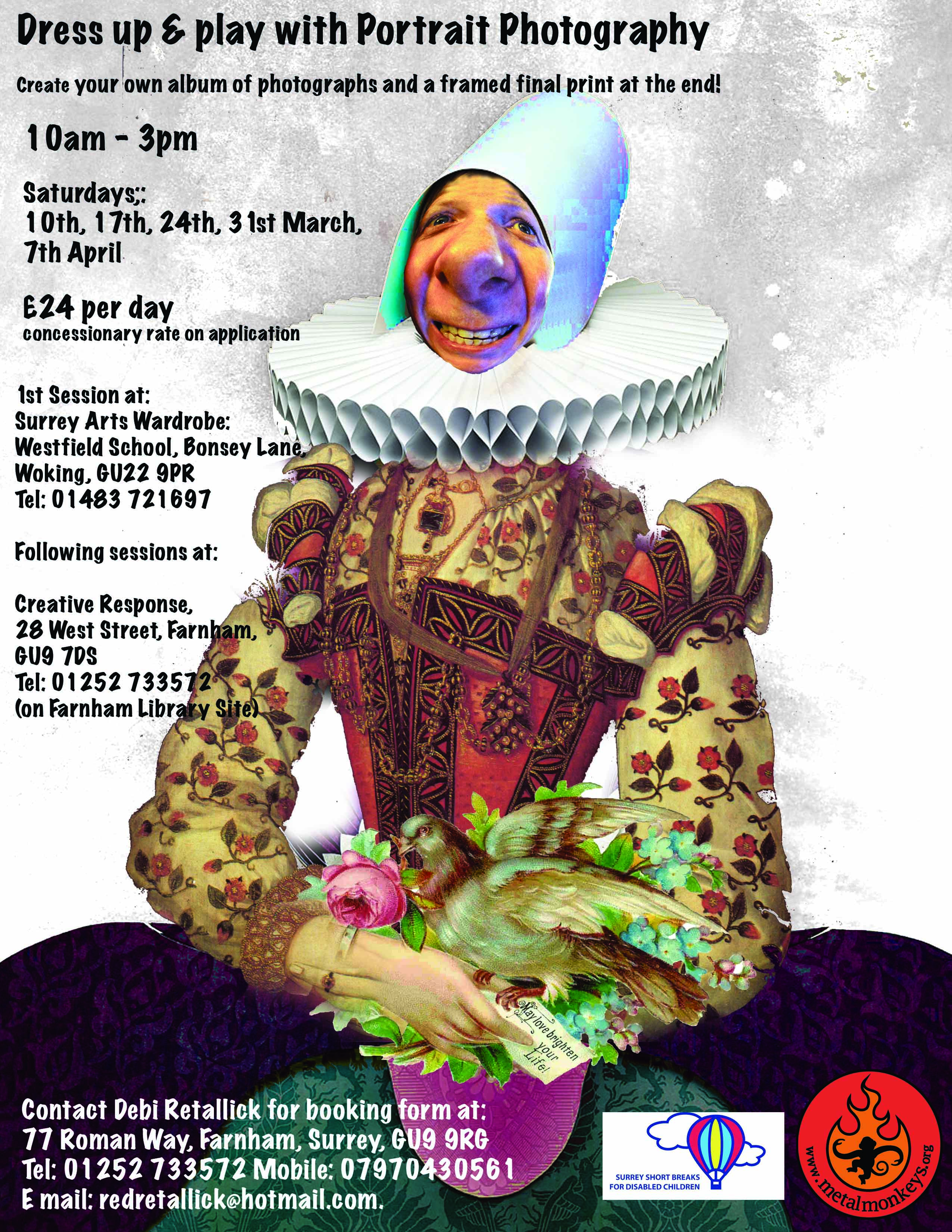 The workshops focus on young people between 11 and 16 with Aspergers, ADHD or at the able end of the ASD spectrum.
Please find flyers and application forms HERE
& please help us by forwarding these opportunities to the relevant people & families!!
A new year and a new look site!!