'Waymarkers', Court Moor School, Fleet 2011:
Working in partnership with The West End Centre, Aldershot, this series of art works were created in collaboration between Jono Retallick and year groups 7, 8 & 9 from Court Moor School in Fleet, Hampshire. The school wanted to explore the meaning of sustainable learning through a creative process and create a permanent sculpture(s). The outcomes of this exploration were a series of 6 signs/symbols relating to sustainable values within the different subject areas of the school.
Jono worked with six classes, the students worked in teams, creating 32 relief 'patterns' in oil clay, 6 were selected to represent the learning that had taken place and were cast in recycled cast iron as part of a Public Iron Pour event by the Metal Monkey crew.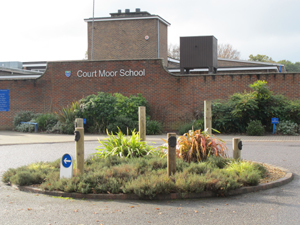 "Thankyou for the difference you've brought to the school" Staff member from Court Moor School.