'Colebrook Nameseeds', Redhill, 2007
Jono Retallick worked in partnership with Surrey Integrated Arts Consortium, as Part of the Colebrook Chronicles Project. The Colebrook Chronicles project celebrated the history of Colebrook Day Centre and the people who have been involved with it over the years.  Changes at the Day Centre meant that everyone was facing some uncertainty about what's happening and how they'll be affected.  Colebrook Chronicles was designed to help people explore feelings about these changes. To start the project, an archive was collected.  The objects in the archive tell the history of the day centre over it's 27 year period and the people involved: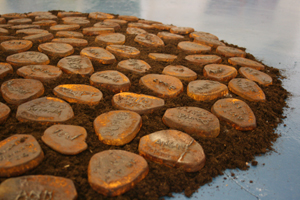 Colebrook Nameseeds is a memorial to all that has been achieved over the years by so many people and represents the diversity of the community. Each piece represents a seed, a strong symbol of growth and potential. Jono saw the process of iron casting as a strong metaphor for the change taking place in this community, changing something as solid and immovable as a building into a moving, fluid substance.
The sessions involved each participant making a mark in a sand mould, something to represent themselves or someone they had enjoyed being with in the day centre. The work was cast at an Iron pour event at the West Wales School of Art, Camarthen.
These 'seeds' were then exhibited as a single art work at the centre which was followed by a period of service users sowing/installing the works randomly within the local area for others to discover!