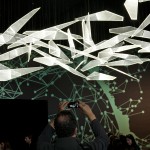 Jono is a founder member of the group and contributes creative direction, project management and delivery:
My works are primarily mixed media with a strong focus on textiles and metal, each work often consisting of multiple pieces that as a whole carry a number of narratives that comprise a larger story. I take a very playful and intuitive approach to making in terms of materials and process and although this tends to present itself in humour most of the work also has a dark, political undercurrent.
Since 2006 my work has had a strong focus on iron casting. I have completed a variety of commissions including cast iron sculptures for Abbey Court Independent Hospital, Warrington, Court Moor School, Fleet, Colebrook Day Centre, Redhill & Slated Row School, Milton Keynes. I have also been developing my foundry experience; in 2010 I joined the Carbon Arts team as a specialist delivering a 25 ton iron pour for artist Matthew Barney.
Find me on twitter: @metalmonkeys
To keep up with the artist, why not like his facebook?: https://www.facebook.com/jubei.chan1
Projects